Book review: The Graveyard Book, Neil Gaiman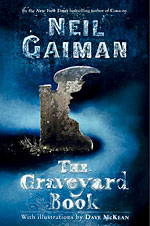 I was chatting with a friend not long ago about Neil Gaiman's writing style, and we agreed that his is an authorial voice you either like or you don't: my friend doesn't like it, but I do. A lot. Gaiman has a knack of adapting to whatever genre he's writing in, but his work always has a sense of the very old, the very deep, and the very strange.
I started The Graveyard Book with high expectations, and wasn't disappointed: Like all the best children's literature, it's wildly imaginative, seductively scary, and a sophisticated read for both kids and adults.
Loosely inspired by The Jungle Book, Graveyard is the story of a baby who escapes from the ruthless killer who's murdered his parents, and escapes to a very old graveyard. Rechristened Nobody "Bod" Owens, he's raised by the graveyard's ghostly  inhabitants and encounters vampires, werewolves, witches and other beasties as he grows up. (The Guardian has a more detailed, though mildly spoilery, synopsis; I recommend going into it without knowing about the plot's direction.)
It kind of reminded me of Harry Potter, if Harry Potter's sprawling story was condensed into a single book: Graveyard has the same magical, captivating and adventurous tone. I felt really sad when I turned the last page, both because of the way the plot wrapped up, and because I'd finished a really great book.
Each chapter advances Bod's age by around two years and stands alone as a story (more or less), making this a breezy read. If you never read anything of Gaiman's before, this is a fine entry point.1
Gaiman has proposed writing more books exploring the backstory of the Graveyard universe, but with a darker, more adult tone – a sort of "The Lord Of The Rings, to which The Graveyard Book would have been The Hobbit", in his words. I want to read that book so bad. Right now. (Especially since the propects of a Graveyard Book movie aren't looking so hot right now.)
After you finish Graveyard, try his short story collection Fragile Things. Then move along to American Gods and Anansi Boys, or maybe Coraline (which I haven't read, yet, though the movie adaptation is stellar), if you're looking for more "kiddie" stuff. I haven't sampled Sandman yet, but I plan on getting to it one day. [↩]
Tags: Coraline, ghosts, Harry Potter, Neil Gaiman, Nobody "Bod" Owens, The Graveyard Book, The Hobbit, The Jungle Book, The Lord of the Rings, vampires, werewolves