Short story: Dear J…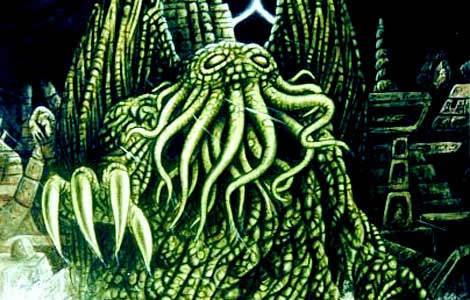 Dear J,
So I have no idea what my parents are doing in the basement but they are making so much noise down there. I am trying to study but all I hear all night are bangs and crashes.
Don't you dare even suggest they're "making love" or something, because that's gross. Besides, it doesn't sound like… that. Not that I know what "that" sounds like, har har. But you know what I mean.
And last week I heard a scream coming from down there. It didn't sound like Mum or Dad. Remember that time we went camping by Arkham Lake with your mum and step-dad, and when we tried to go to sleep the wind howling through the trees was so loud we thought it must've been two huge cats having a fight or something? It sounded like that.
So anyway I rushed down to the basement to see if they were okay but they wouldn't let me in. Mum came out and told me I didn't need to worry, but she was really pale and didn't stop shaking till I made her a cup of tea. Then she made me go to bed without even telling me what'd happened. And the next morning Dad apparently left for some interstate anthropology convention before I even woke up, and he hasn't come back yet and he's too busy to even bother calling, so I haven't had the chance to ask him about it either.
A few nights later Mum fell asleep in the living room (with all the lights on! And she's always on at me about wasting power) so I snuck into the basement to see what's going on. The door was deadlocked but everyone in the world knows where they "hide" the key in their study. And you know what I found down there?
Nothing. Not even any of the usual dusty relics they're always bringing home from the university.
The basement was so dark, because for some reason the only light on down there seemed to be one of those weird ultraviolet ones, like they had at that lame dance we went to last winter, though I couldn't see where it was coming from. The whole basement was all purpley-black and hurt my eyes. And it reeked of fish like you wouldn't believe. Like they'd bought every single thing at the fishmarket and just let it rot for a month.
So I poked around for a bit but pretty much the only thing down there was this enormous book propped open on the desk. I guess it must've been valuable or something because it was chained down. I couldn't really make out the writing but it was all Latin anyway.
Last night Mum was back in the basement again for hours, I guess messing around with the power because it made my alarm cut out and I was late to school. But the worst part? When I got home this afternoon, Mum had dyed her hair totally white. WHITE. She looks like a grandma. I asked why on earth she would embarrass me by doing that, but she refused to tell me and slammed the basement door in my face.
I'm really worried! This girl at school said her mum got an extreme makeover right before her parents divorced. Except her mum apparently got a boob job instead of wrecking her hair. I hope my parents aren't getting a divorce! Then when I asked Mum when Dad's getting back from his so-called "business trip", she started crying and locked herself in the basement again.
So I hope it all works out okay.
Anyway. How are you? Did you win your netball final?
Love, S
*
Click here to read more of my short stories.
Author's note: I wrote this for a short-story contest held by Nathan Bransford, in which the criteria was to "Write the most compelling (fictional) teen diary entry [or] unsent letter" in a teen's voice. SHOCKINGLY, I didn't win. Possibly because none of the other entries were written by anyone who's been overdosing on Lovecraft-inspired fiction lately…?

Dear J by Sam Downing is licensed under a Creative Commons Attribution-NonCommercial-NoDerivs 3.0 Unported License.
Tags: Cthulhu, H.P. Lovecraft, silliness