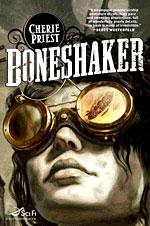 Boneshaker I bought at the same time as Leviathan, because they were next to one another on the tables at Barnes & Noble, and I vaguely remembered reading good things about it. (I also liked the cover. Goggles! Airships! Neat typography!) It was a good purchase. This is a great book.
Cherie Priest's story starts off slow: it's not immediately apparent how the plot will turn out, unless you cheated and read the blurb, and even then it's not obvious. Early chapters introduce us to Briar Wilkes and her teenage son Zeke, and the grim 19th century version of Seattle they inhabit. By around page 50, the plot has stuck them both in a walled-up part of the city that's crawling with zombies (dubbed "rotters" in Priest's universe) and pirates and mad scientists. (Boing Boing has a longer, better synopsis.)
No-so-coincidentally, around page 50 is where Boneshaker hooked me.
This is an epic, page-turning, wonderful read: deftly plotted, switching between Briar and Zeke as they individually explore the horrifying, steampunk-inspired place they've stumbled into; written in a beautifully verbose style that matches its historical era; and just a whole lot of fun. Priest is writing at least two more books set in the same world, and while they won't be direct sequels to Boneshaker (which is a shame – I want more of Briar and Zeke and zombie-Seattle!), I can't wait to read them.