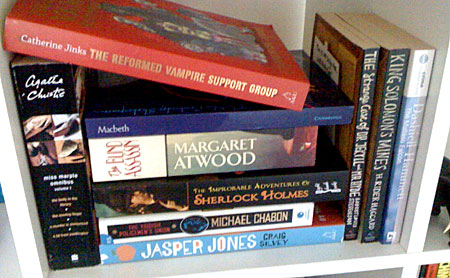 I still (still!) don't have the internet connected at my new house.
Clearly, this is a dreadful predicament for someone who is addicted to the internet. Gmail is going unchecked. Tweets are vanishing into the ether. My Google Reader subscriptions are piling up. And I can't even play around with Google Wave!
(I guess I could read Gmail/check Twitter/browse Reader/play with Wave when I'm at work, but unfortunately I have actual work to do there which gets in the way of fun stuff.)
On the bright side, the lack of internet at home means I'm getting some reading done. Pictured above is the section of my bookshelf specially dedicated to all the books I have to read (or in some cases, re-read). I have this thing where I constantly forbid myself from buying new books till I finish the unread books I already have, but then of course I always go and buy new books anyway to add to the pile.
Weirdly, my writing is less productive than ever at the moment, even though I don't have the siren song of the internet calling to me. Theory: I'm not using the internet, so I'm not using my Macbook, so I'm not writing. Huh.